Preservative Products
StaFresh®
StaFresh® adds life to cut flowers, from both your garden and your florist.
Plantabbs Products introduces StaFresh®.
This new formula adds life to cut flowers, from both your garden and your florist. STAFRESH® causes your flowers to take up more water, therefore extending the life of cut flowers. .
StaFresh® comes as a highly concentrated formula in an 8oz. bottle. Makes 4 gallons of usable solution
Prolong®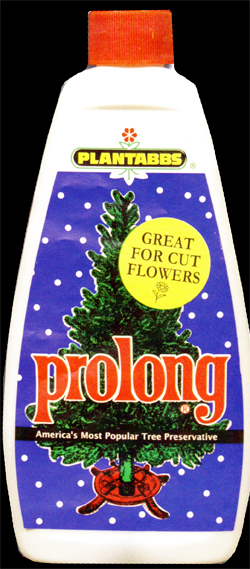 Prolong's® special formula is an easy, effective way to keep Christmas trees fresher, greener and safer.
For the past 35 years PROLONG® has been and continues to be America's most popular Christmas Tree Preservative. This highly effective product. confirmed by university studies, is the easiest and most convenient method of hydrating your cut tree, thus keeping it greener fresher and safer throughout the holiday season.
By keeping your tree watered with PROLONG® you will find the tree will retain their needles longer in the dry heat of your winter home. PROLONG® causes cut trees to absorb more water than it would otherwise, thus extending the life of the tree. PROLONG® is safe for use with children and pets, when used as directed.
Give the environment a post Christmas present by taking your tree to a Christmas tree recycling location at the end of the holiday season. It's a great way to also help Mother Earth.
Conveniently packaged in point-of-purchase trays for cash registers and other merchandise areas in the store.
PROLONG® is packaged in cases of 36 bottles/8 oz/each.
FLOWER-DRI®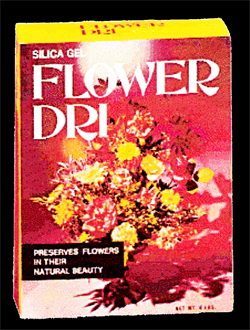 This product has long been preferred by professionals and amateurs alike for its consistent quality and dust free characteristics making it the absolute best silica gel for flower drying. Produced to very high standards, FLOWER-DRI®, continues to be the product of choice among those who require this high quality. Reusable, this product lasts thru many cycles. Conveniently packaged for the hobbyist and the professional and available where you purchase your drying supplies or on the internet.
For the beginning hobbyist you might want to consider a publication by Cathy Miller, which we consider to be the encyclopedia of flower drying, entitled "HARVESTING, PRESERVING & ARRANGING DRIED FLOWERS". Everything you need to know about the art and craft of drying flowers is covered in this outstanding book.
FLOWER-DRI® is supplied in kits, two lb, 5 lb and 35 lb containers.